Beskrivning
AECO – THE SMART SOLUTION
High- purity copper (Tellurium Copper)
Concept
Plug and jack can be assort and unilateral replace with other standard coaxial RCA.
By reducing the size of the conductor and path, to reduce Resistance, Capacitance and Inductance reaction while signal transmit.
Non-coaxial conduction are able to use single point conduction while plug connect to jack.
The Jack is made with insulation material which isolated from the metal plate to reduce the impact from external factors.
Terminal was half crosscutting in L shape and a ring with screw. It will be used for solder type or screw type. 
The conductor use high-purity copper (Tellurium Copper) without nickel plated.
By using highest quality of design techniques and material to provide customer who has "High End" requirement.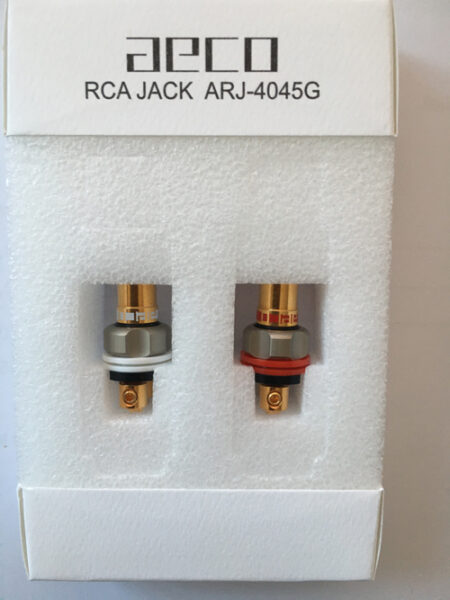 Levereras i en snygg förpackning.
Det medflöjer extra skruvar (torx T6).
Delivered in a nice package.
Extra screws (torx T6) are included.
Description
Mechanical structure:
Signal contact spring fix inside the body with PTFE together by assemble function.
POM covers around the body to isolate the metal panel.
The jack is through the opening gap from inside of the panel, tighten by washers and pentagram nut.
A ring and a screw were temporary locked, also able to adjust into solder type or keep lock directly based on your need.
NOTE:
This product is suitable for diameter 12 mm circular opening gap of the panel.
This product is suitable for the maximum 3.5 mm thickness of the panel.
The torque for the nut on this product can be reach to maximum 8 (lb-in).Please noted, it will cause component damage if force to lock tighten too much.Screws with the finished products.
(3/4 mm 4 screws per each)
Assembly:
1.remove the nut [111]and washer[121]
2.1. For solder type: Please remove the ring [311&312] and the screw[321&322] first while soldering cable.
2.2.For screw type: Please remain the ring [311&312] and the screw[321&322].
3.please put the body [211] through the opening gap from the inside of plate.
4.please lock the nut and washer on the body, no need to fasten them in order fine tuning later,
5.1.for solder type: please solder the cable(without jacket)
5.2. Please lock the cable (without jacket) after loose the screw on the ring,
Please turning the body to obtain the space to lock another screw.
6.please lock the nut.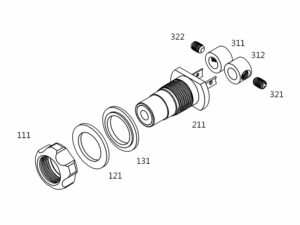 Material:
Contact Pin: Copper (#C1100 / copper contains over 99.5%)
Grounding: Tellurium Copper (#C14500 / copper contains over 99%)
Insulator: PTEF (White)
Shell: POM (Black)
Washer: PE(White / Red)
Nut: Brass alloy (#C3604)
Ring: Brass alloy (#C3604)
Screw: Brass alloy (#C3604)
Finish:
ARJ-4045G
Contact Pin: 10u" Gold plating (no nickel base)
Grounding: 10u" Gold plating (no nickel base)
Ring:  3u" Gold plating (no nickel base)
Screw: 3u" Gold plating (no nickel base)
Electrical Characteristics:
Contact resistance < 0.3 mOhm (It was test by ARP-4045.)
Dimension:
BBiggest OD 15.0mm
Total Length 29.0mm
Packing:
Vacuum Bag(2Pcs/1Set)
Product production process comply with RoHS.