Beskrivning
AECO – THE SMART SOLUTION
High- purity copper (Tellurium Copper)
Concept
The body of plug was lathed in one piece to avoid the conduction loss when signal through the different structure and interface.
Shell between body isolate by insulator material. Depends on the method of processing, it can choose to make the shell be a conductor.
The conductor is made from high-purity tellurium copper without nickel base.​
By using highest quality of design techniques and material to provide customer who has "Hi-End" requirement.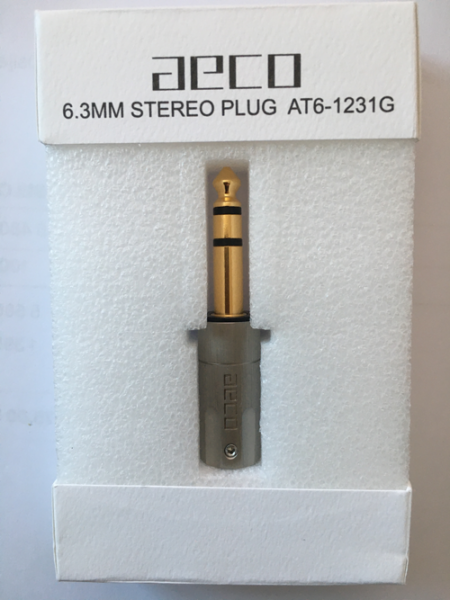 Levereras i en snygg förpackning.
Det medflöjer extra skruvar (torx T6).
Delivered in a nice package.
Extra screws (torx T6) are included.
Description
Mechanical structure:
The center pin is fixed to the POM insulator by assemble function
Each channel is separate by POM, then assemble with center pin.
Use the POM latch through each channel in order to fix the body.The body and the shell locked by screwing.
POM sleeve is fixed with end of shell by using screw.
The cable hole with small POM sleeve is 6.5mm,
bigger POM sleeve is 8.5mm Without POM sleeve is 10.5mm.Note:
This product is include: screw for cable 4 mm*1pcs and 6 mm*1pcs.
Assembly:
1. We recommend to peel off the cable jacket and per conductor wire insulation.
2.Depends on cable size to use small POM sleeve (ID 6.5mm) [312], or bigger POM sleeve (ID 8.5mm) [311] or without POM sleeve (ID10.5MM) [301].Then through into cable.
3.Contact the cable with per channel by soldering.
4.Lock the shell and body [203],
5. Please lock the cable and shell with a screw [321 / 322].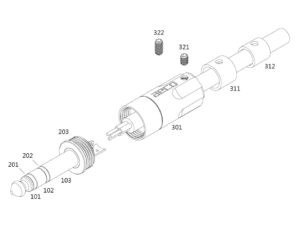 Material: 
Contact Pin: Tellurium Copper (#C14500 / copper contains over 99%)
Body: Tellurium Copper (#C14500 / copper contains over 99%)
Insulator: POM (Black)
Lock head: POM (Black)
Shell: Brass alloy (#C3604)
Sleeve: POM (Black)
Screw: Stainless steel (#SUS 304)
Finish:
AT6-1221G / AT6-1231G
Contact pin: 10u" Gold plating (no nickel base).
Body: 10u" Gold plating (no nickel base).
Insulator: None.
Head lock: None.
Shell: Satin Nickel + Topcoat.
Sleeve: None.
Screw: None
Electrical Characteristics:
Contact resistance < 1.0 mOhm
Dimension:
Biggest OD:13.5mm
Total Length: 63.0mm
Packing:
Vacuum Bag
Recommend soldering temperature:
Temperature Soldering Iron, please keep 400 °C within 15 second
Temperature Soldering Iron, please keep 420 °C within 10 second
Temperature Soldering Iron, please keep 440 °C within 08 second
Product production process comply with RoHS.
Product made new TW patent No. M581795.