Beskrivning
High-level modulation cable
Multisound 344
NZT-M344
Balanced unique 3 conductor cable topology – 6,5 mm diameter
Kabeln NETZO Multisound 344 är en kabel helt utvecklad för att få en moduleringskabel på hög nivå utan de vanliga defekterna i normala produktioner för denna prisklass.
PTFE-isolering lindad på tre OFC-trådar med hög renhet överensstämmer med en speciell topologi med flera dimensioner i respektive ledare.
Kombinationen av inslaget papper och en bomull tillåter bra ljudkvaliteter.
Denna speciellt oskärmade tvinnade kabel erbjuder en realistisk ljudbild, sammanhängande klangfärger med verklig naturlig precision i kombination med vacker dynamik utan att bli tröttsamt när du lyssnar.
The cable NETZO Multisound 344 is entirely developed to obtain a high-level modulation cable without the usual defects of current productions in this price range.
PTFE insulation wrapped on three high-purity OFC wires is consistent with a particular topology with multiple sections. The association of wrapped paper and a cotton sheath allows audio qualities that are often opposite.
This specially unshielded twisted cable offers a realistic sound image, coherent timbres with true natural precision coupled with beautiful dynamics without being tiring when listening.
Round Construction: 3-conductor constructions are round constructions, and since the cable has the freedom to move in all directions, especially on the strain relief of a connector, the cable will survive more movement cycles.
Recommended applications:
Termination with RCA for unbalanced cable applications where two of three wires are used for the signal ground.
Termination with XLR for relatively short cables.
Termination for speakers.

Cable structures and specifications:
3 strands with a total section of 0.5mm² each PTFE OFC 1.65mm diameter each
Twisted conductors
Each strand contains several diameters of OFC wires: 1×0.5mm, 1×0.4mm, 2×0.3mm, 3×0.2mm
Dialectrum strands; PTFE
Antistatic cotton sheath
Paper sheath for mechanical strength
Red specific PVC sheath jacket (stability over time), diameter 6.5mm
Capacitance (conductor/conductor): 50 pF/m
This cable is sold by the meter
| | |
| --- | --- |
| Length (m) | Sold by length |
| Plating | None |
| Separated conductors | Yes |
| Number of conductors | 3 + 1 |
| Insulation material | PTFE |
| Shielding | No |
| Section (mm²) | 0.50 |
| Conductors material (Cable) | Copper |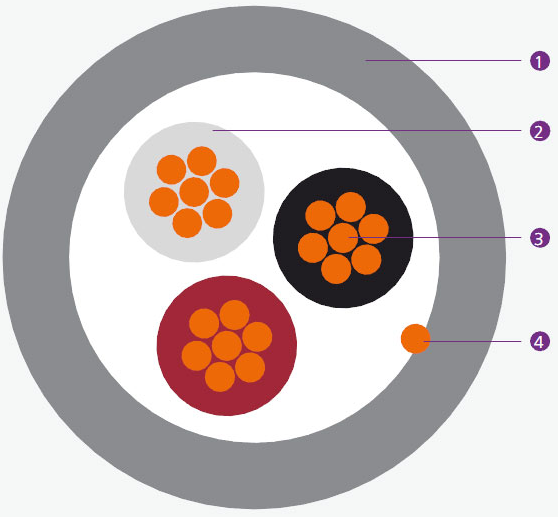 Cable jacket, PVC
Wire insulation, PTFE
Conductor, OFC copper (different sizes of the wires in the strands, total of 7 wires)
Drain
Between wires and jacket, there is a protective screen of paper and then around a whole sock of cotton