Beskrivning
GAC-3 Ultraflexible 3-conductor microphone cable (Neumann wire)
En audiokabel från Gotham Audio Cable, Schweiz
Gotham artikel nr: GAC-3 ultraflex, 10701
CAB-GAC-3-10701
Balanserad anslutning har alltid gynnats av proffsen inom musikindustrin såväl som audiofiler, de som har en högre utrustningsnivå som innehöll balanserad anslutning för input/output, för sin suveräna kamp mot brus. Låsmekanismen i XLR ger också en superb men universell passning till portarna som inte liknar ensidig anslutning i RCA som kan möta vissa greppproblem.
Gotham GAC-3 är en balanserad dubbelskärmad analog ljudkabel med en legendarisk vintage "Neumann-kabel"-konstruktion. Denna konstruktionsmetod som används i lämplig jordning har resulterat i att Gotham GAC-3-kablar har ökat RF-avvisning till 115dB (20dB bättre än standard) vid 25 kHz. Ljudets renhet ska förbättras till följd av att mindre brus tränger in i signalvägen.
Används inom musikindustrin med 3 poliga XLR av hög kvalité eller TRS-pluggar.
| | | | |
| --- | --- | --- | --- |
| 10701 | GAC-3 | 5.0 mm / 0.19 in (yttre diameter) | darkgray |
Balanced double shielded analoge audio cable! Legendary vintage "Neumann cable" construction.
Industrial exklusive 3 conductor construction for Microphone, only available from Gotham Audio.
Why three conductors for an audio signal? Here are some answers:
Grounding/shielding: With the third conductor put to ground, together with the two shields, we have increased RF-rejection to 115dB (20dB better than standard) at 25 kHz.
Round Construction: 3-conductor constructions are round constructions, and since the cable has the freedom to move in all directions, especially on the strain relief of a connector, the cable will survive more movement cycles.
Phantom Power: The 3rd conductor can be wired as a drain wire for a reliable connection of phantom power to the microphone without affecting the shield.
Each of the three conductors consists of 96 (!!) strands of 0.05mm copper wires being the finest stranding for audio cables available which gives you improved flexibility, better signal transport and longer lifetime (moving cycles).
Paper from "Neil A Muncy" (AES Member)
Noise Susceptibilty in Analog and Digital Signal Processing Systems Presented at 97th AES Convention San Francisco November 1994 Revised April 13, 1995 Journal of the Audio Engineering Society Vol 43 #6 June 1995 p.435-453
AES paper:Neil A Muncy
TIPS OM ATT ANSLUTA SKÄRMEN RÄTT
Tips om anslutning kontakt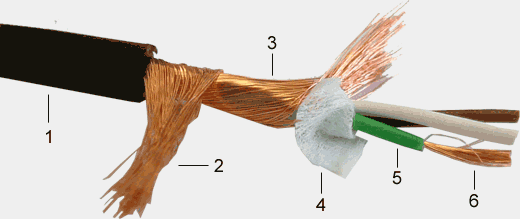 Construction:

1 = Jacket:
PVC, Ø 5.0mm / 0.19in, (10701-10702)
PVC, Ø 5.8mm / 0.23in, (10801-10802)
2 = Shield No. 1:
Bare copper wires (0.10 mm / 38AWG) 100% coverage
3 = Shield No. 2:
Bare copper wires (0.10 mm / 38AWG) 100% coverage
4 = Viscose fiber coat:
Counter wrapped to the twisted triple
5 = Insulation (cond):
PVC, Ø 1.2 mm / 0.05in, white, brown and green, twisted triple
6 = Conductor:
Stranded bare copper wires 96 x 0.05 mm (0.19mm²) / 96x44AWG (24AWG)

Technical Datas:

Conductor resistance:
 < 90 ohm/km / < 24.4Ohm/1000f
Shielding resistance:
 < 20 Ohm/km / < 6.1Ohm/1000ft
Capacitance:
cond/cond:
 < 150 nF/km / < 45.7 nF/1000ft
cond/shield:
 < 240 nF/km / < 73.2 nF/1000ft
Characteristic impedance:
at 10 kHz:
150 Ohm
Test voltage:
cond/cond:
 500 veff
cond/shield:
 2000 veff
Operating voltage:
 low voltage
Temperature range:
flexi-installed:
-5° to +50° C
fix-installed:
-30° to +70° C