Beskrivning
Audiophile Speaker & Power Cables
Amadeus 7 mk 2, är en kraftig kabel för högtalare och passande som nätkabel
Kabeln har påmonterad flätad kabelstrumpa i röd/svart.
Yttre diameter: 16 mm

Designed and built for the most important links to your speakers with the lowest resistance in delivering the full dynamics of clean and transparent sounds without the distortion, noise, and interference. Solid pure copper OCC conductors with the highest conductivity enable the full signal transmission with more solid and rounded bass and much smoother highs. Air-Inside© Geometry delivers natural soundscape that opens up to a wide imaging with layers of instruments, vocals and midrange at center stage to bring out the music to a more defined and dynamic listening experience, and all at a higher resolution! 
At the Cores
Six individually shielded cores in 16mmØ jacket provides flexibilities in single-wire, or bi-wire and bi-amp terminations for even more improved sound separations
Amadeus7 Mk2 – six 17AWG OCC cores
The speaker cable AMADEUS 7 MK2benefits from all the necessary attention and specificities. The goal of the American brand is to offer the best audio cable at the best price.
This speaker cable benefits from materials and manufacturing methods rarely used in this price range. Drivers are pure copper OCC six-body , and its insulating structure (Air Geometry Design) uses the air according to a geometry deposited by the mark itself.
This audiophile cable minimizes the distortion on the signal transmission thanks to its conductors in pure copper OCC, and its 6 cores all separated by its elaborate and sought-after construction. The whole is protected by a shield of Aluminum and polypropylene with multiple shielding, as well as a body in PVC to avoid any loss of transmission.
>>> Skiss över anslutning för högtalare/biwire
Utan biwire så ansluts alla kablarna på utgången som på ingången från förstärkaren.
Nedan skiss visar hur man ansluter denna kabel som nätkabel.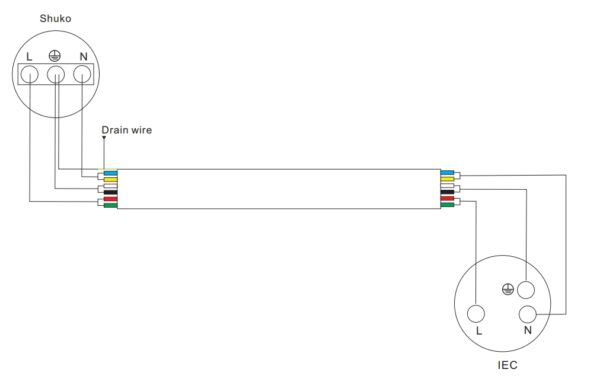 RAMM Audio is an emerging company with the passion in offering fine audio cables to the audiophiles. Our proprietary designs and manufacturing process enable us to produce interconnect, speaker, and power cables that deliver performances comparable to similar products from a select few of high-end cable brands. Our mission is not to compete with these fine cable manufacturers; but to provide the market with premium audiophile cables and fine parts – at more affordable prices.
Our Air-Inside© geometry designs using pure metal materials allow us to produce cables with significant improvements in minimizing noise and distortion while maintaining transparent signal transports. The Amadeus series bring out an excellent application where pure solid core OCC copper conductors are used in our Air-Inside© geometry speaker cable construction. The Amadeus provides excellent transparency and resolution delivering dynamics with more defined lows and smooth extended highs while minimizing noise and signal transmission distortion. The cable's internal six individually shielded core wires provide the flexibility of bi-wiring, bi-amping, or single channel terminations. Pure copper banana and spade connectors are available with gold and rhodium/silver plating choices.